Station 67
Firefighters Union Hall
379 West Broad Street
Columbus, OH 43215
Station 67 is a beautiful and historic event venue located at the convergence of downtown Columbus and the Franklinton neighborhood.
The perfect backdrop for a stylish and contemporary wedding or corporate event, Station 67's distinctive character will leave a lasting impression on your guests.
Station 67's new partnership with L.A. Catering means that your next event will feature top-notch cuisine that supports the charitable efforts of LifeCare Alliance and its 30,000 central Ohio clients.
Perfect for Your Next Event
Weddings
 Station 67 provides an elegant, convenient downtown location for your special day. This historic venue links Columbus and Franklinton's past with its vibrant future.
Corporate Events
With a spacious atrium and a selection of AV-enabled breakout rooms, Station 67 is the perfect location for your next corporate gathering.
(Photo Courtesy of Moody Nolan)
Rental Includes:
Ceremony & Reception Venue Rental
(Saturdays & Sundays– 11 hours, Fridays – 9 hours)
Bridal Suite
Groom's Room
1 hour Wedding Rehearsal
Round & Rectangular Guest Tables
230 Chairs
Pipe & Draping for Depot (Ceremony Room) – optional
L.A. Catering
L.A. Catering is the exclusive caterer for Station 67. We offer a wide variety of menu options and have a range of inclusive packages to make the planning process easier; we will customize your menu that fits your vision of the special day. L.A. Catering also has many preferred vendors that will ensure your day is stress-free. Feel free to ask our Wedding Specialists about how we can be of help with your DJ, cake, flower arrangements, etc.
Packages
L.A. Catering offers 2 inclusive package tiers:
$35.95 per person includes 1 displayed appetizer, fresh salad, rolls and butter, entrée and accompaniment.
$40.95 per person includes 2 displayed appetizers, fresh salad, rolls and butter, dual entrée and accompaniment.
* Additional appetizers or accompaniments may be added at an a la carte price.
WEDDING PACKAGE MENU
Station 67 Venue Rates:
Peak Season: (May – October & December)
Friday Facility Rental $1,500 with a $3,000 catering minimum
Saturday Facility Rental $2,500 with a $6,000 catering minimum
Sunday – Thursday Facility Rental $1,000 with $2,500 catering minimum
Off Season: (January – April & November)
Friday Facility Rental $1200 with a $2,000 catering minimum
Saturday Facility Rental $2,000 with a $5,000 catering minimum
Sunday – Thursday Facility Rental $1,000 with a $2,500 catering minimum
Bar Fee of $500
Rental Includes:
Experienced full-service professional event staff
Customizable catering menu
Secure high-speed Internet
Flexible meeting room set-ups
Guest reception & on-site venue manager
Audiovisual equipment including HDMI & USB
Dropdown jumbo presentation screen in atrium
Apple TV capability in breakout rooms
Board room, conference room, atrium and depot for intimate meetings or breakout space
Built in bar for accessible beverage service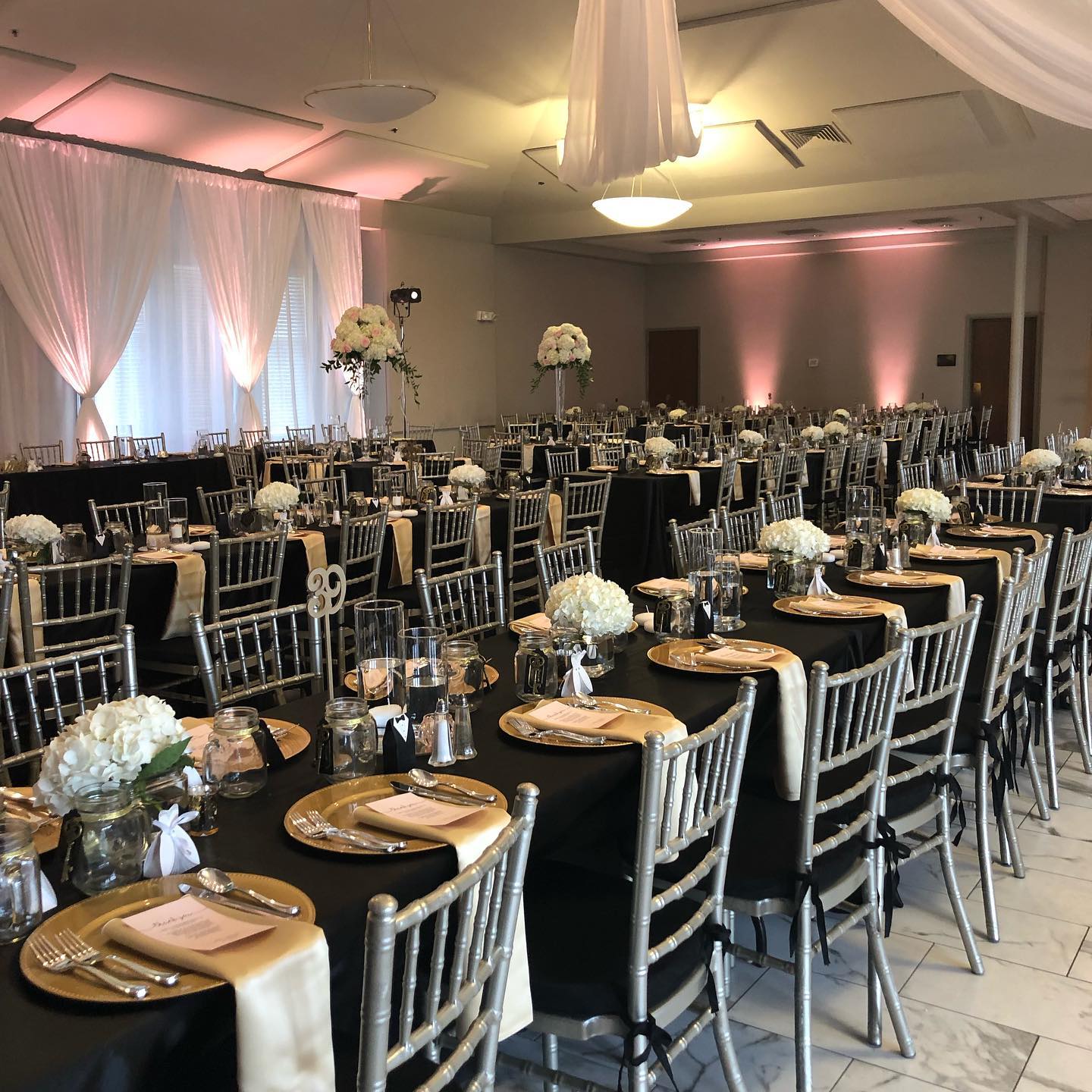 The Toledo and Ohio Central Railroad built the station in 1895. The tracks were then at ground level on the west side of the building. In 1911, the railroad raised its tracks to eliminate grade crossings. The station was awkwardly modified, with passengers exiting the second story onto an elevated platform. In 1930, service moved to the larger Union Station and the station was abandoned.
The next year, Volunteers of America purchased the building and began using it as office space. The station was added to the National Register of Historic Places in 1973. It suffered a fire in 1975 which destroyed the roof, but the VoA restored it three years later. The organization moved out of the building in 2003.
In 2007, the International Association of Fire Fighters Local 67 bought and restored the station building for use as their offices and meeting hall. Norfolk Southern Railroad freight trains continue to use the elevated tracks. (Source: Wikipedia)